Enjoy the Unusual
We will fly you and your guests to a restaurant of your choice for a business meeting, a romantic dinner for two or an unforgettable birthday party! You will experience the breathtaking flight impressions and then you will have all the attention when we land directly in front of the restaurant or hotel.
For the delicious dinner you can choose from many wonderful places with a delightful ambience like Steirereck (Pogusch), Dürnberg Falkenstein, Hotel Guglwald and others.
Offers from Stockerau
Offers from Wels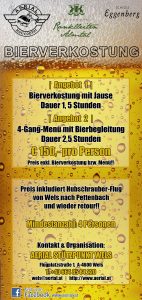 Beerhotel Ranklleiten Almtal
The Beerhotel offers tasting of a great variety of beers with snack or a four course dinner with beer accompaniment which are almost a "must have" for every beer lover!
The package.
From Wels we will fly you to the Beerhotel in Pettenbach where the helicopter will wait for you and bring you back to Wels after you beer tasting or dinner.
All offers are available from every base!
For further information please don't hesitate to CONTACT us!