Old but GOLD!
The Bell 206 "Jet Ranger" is the most popular, reliable and versatile helicopter in the world! It has ruled the skies for 60 years now. He can be used for material handling, photo flights, training and every kind of transportation. It offers very comfortable seats up to 4 passengers and its good-natured flight characteristics enable young pilots to easily control him.
The first versions of the Bell 206 had a turbine with 317 bhp. During the years it has experienced a series of modifications such as a 420 bhp strong turbine and a tail rotor with greater diameter.
The helciopter has a wide operation range:
Material handling, photo- and film flights, passenger transport, heli-skiing, scenic flights and night flights.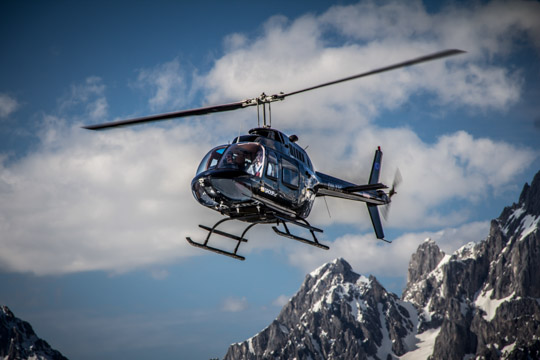 Technical details:
Allison 250-C20 B
Power:
420 bhp
fuel consumption:
100 l/h
Rotor diameter:
10,16 m
Lenght over all:
11,82 m
Width:
1,92 m
Height over all:
2,90 m
Empty weight:
820 kg
Max. Take-off weight:
with external load1520 kg
without external load 1452 kg
Max. Lifting capacity:
400 kg
Max. endurance:
2 3/4 h
Max. speed:
240 kph
Max. travelling speed:
185 kph
Max. operational altitude:
6000 m
Range:
500 km
  Bell 206 – Technisches Datenblatt